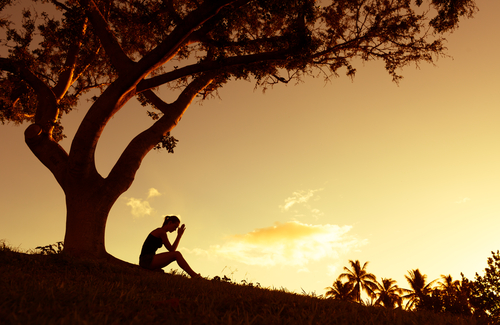 Faith in its Utmost Sense
Faith is referred to as the complete trust or confidence in something or someone; it is an allegiance to a duty or a person. And when we refer of our faith in the Lord, it means, that we completely entrust out all unto Him. That we are confident of abiding in Him, and that our loyalty is in Him only.
In the Bible, many people were commended for being faithful and obedient to the Lord. And with that, there is one man who was called, The Father of All Nations because of his faithfulness to the Lord, and he is none other than Abraham (which is called Abram before he was given the name "Father of All Nations"). "When Abram was ninety-nine years old, the Lord appeared to him and said, 'I am God Almighty; walk before me faithfully and blameless. Then I will make My covenant between me and you and will greatly increase your numbers.' Abram fell facedown, and God said to him, 'As for me, this is my covenant with you: you will be the father of many nations. No longer will you be called Abram; your name will be Abraham, for I have made you a father of many nations. I will make you very fruitful; I will make nations of you, and kings will come from you.'" Genesis 17:1-6 (NIV)
Abraham was not only blessed of having great generations, but as well as fruitful and bountiful life. But then, who would have known that in his ripe age, as well as of his wife Sarah, they will still bear a child who would bring on the covenant of God into reality. Yes, you got it right! Abraham and Sarah bore their child who have fulfilled God's covenant to Abraham that he would become the father of many nations. It happened on a very fine sunny day when Abraham saw three (3) men standing nearby while he was sitting at the entrance of his tent. Upon seeing those men, he went on to meet them and invited them to have some refreshments inside his tent, and the men gave in to his invitation. After that, "Abraham hurried into the tent to Sarah. 'Quick,' he said, 'get three seahs of the finest flour and knead it and bake some bread.' Then he ran to the herd and selected a choice, tender calf and gave it to a servant, who hurried to prepare it. He then brought some curds and milk and the calf that had been prepared, and set these before them. While they ate, he stood near them under a tree. 'Where is your wife Sarah?' they asked him. 'There, in the tent,' he said. Then one of them said, 'I will surely return to you about this time next year, and Sarah your wife will have a son.' Now Sarah was listening at the entrance to the tent, which was behind him. Abraham and Sarah were already very old, and Sarah was past the age of childbearing." Genesis 18:6-11 (NIV)
Along in the story, Sarah could not believe of what the man had said and she even laughed. However, she was frightened and marveled on what the man had said about her. And yet, after a year, she really did bear a son.
The life of Abraham and Sarah is a complete example of faith in its utmost sense. For us, human, it would really be impossible for Sarah to bear a child at his age, but then, they trusted the Lord's words and promise unto them. They may have doubts at first that the promise and covenant would really came true, but the Lord kept His words, for with Him, nothing is impossible.
subscribe for daily prophetic updates now.