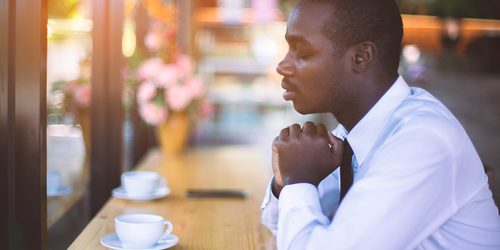 Don't Let the Enemy Get in Your Head
The thoughts in your head hold a high importance in living out a happy and prosperous life. Your thoughts will either lift you up into your blessing, or bring you down low. It is important that you guard your mind, because the enemy is always seeking to rob you blind!
When faced with a situation, oftentimes, many people think of the worst instead of concentrating on God's best. This negative thinking can cause us to miss out on the great blessings that God has intended for us.
A merry heart doeth good like a medicine: but a broken spirit drieth the bones.
-Proverbs 17:22
The Bible tells us that having a broken spirit, meaning having a negative outlook in life, dries up the bones. There is simply no good in having negativity conquer your thoughts. The enemy wants us to think of the worst to sabotage us from experiencing progress and moving forward in victory. He wants us to concentrate on failure instead of finding a way to success. The enemy wants to rob us blind using the thoughts we keep; but the Lord says, DON'T LET HIM GET IN YOUR HEAD!
The enemy is hard at work, but whatever you do, please, DON'T LET HIM GET IN YOUR HEAD! Whenever you see people struggling, the enemy is surely inside of their mind seeking to rob them of their blessing!
The Bible tells us that having a merry heart, meaning living with joy and positivity, is good for us. The Lord says, "Your thoughts are only a reflection of the atmosphere you've been keeping. It's time for some Spring cleaning!"
"Finally, brethren, whatsoever things are true, whatsoever things are honest, whatsoever things are just, whatsoever things are pure, whatsoever things are lovely, whatsoever things are of good report; if there be any virtue, and if there be any praise, think on these things."
subscribe for daily prophetic updates now.