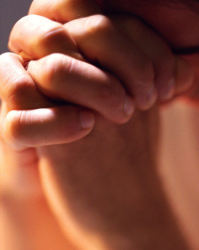 Prayer as a Weapon
What battles have you been facing lately? Are you currently experience trying times in your life? This could be the enemy trying to push you down and away from the Lord. Fear not, because the Lord knows what you are going through and so does the Master Prophet.
War faring prayer is a powerful and dangerous weapon designated by God to divert and overthrow Satan's entire plan.  When Jesus died and rose from the grave, He rose victoriously and entrusted weapons of warfare into our hands.  War faring prayer is one of the most powerful weapons available to mankind.  War faring prayer gets under Satan's plan, roots it up, and destroys it.  War faring prayer has the power to break, smash, and tear up the enemy's plan.  War faring prayer has the power to destroy all that Satan builds for his destructive purposes.
Romans 8:26 – "Likewise the Spirit also helpeth our infirmities: for we know not what we should pray for as we ought: but the Spirit itself maketh intercession for us with groanings which cannot be uttered." (KJV)
Let the prophet pray for your and become part of the prophetic prayer list. Experience the hand of God working in your life, fighting your battles and winning them. Click here to receive your prophetic prayer today!
subscribe for daily prophetic updates now.