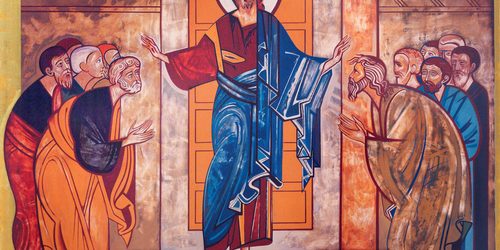 The Compassionate Teacher
"For God so loved the world, that he gave his only begotten Son, that whosoever believeth in him should not perish, but have everlasting life." (John 3:16 KJV)
Jesus Christ was not only the twelve disciples' teacher. He was a teacher to many. He preached in synagogues, to marketplaces, to the streets – Jesus spread his good news of salvation over all the earth.
Jesus was a compassionate teacher. His love for mankind was so overwhelming. Aside from teaching, Jesus also cast out demons and healed the sick. Jesus was so famous that crowds went after him and followed him anywhere he goes. The bible said: "And there followed him great multitudes of people from Galilee, and from Decapolis, and from Jerusalem, and from Judaea, and from beyond Jordan."
One time, when Jesus was about to go to a quiet place to rest with his disciples, a great number of people followed him. Jesus was so kindhearted, "when he came out, saw much people, and was moved with compassion toward them, because they were as sheep not having a shepherd: and he began to teach them many things." Instead of driving them away so that he could go on and rest, Jesus accommodated these people, taught them many lessons, and even fed each and every one of them. And these were no less than a thousand men. According to the bible, "A total of 5,000 men and their families were fed."
What is the most number of people you've fed to date? Have you ever tried feeding more than a hundred men out from your own pocket? Have you ever been so compassionate and gave food to the hungry people on the streets?
Look at Jesus! He was the master. He was the rabbi. He was above everyone else, yet he felt compassion towards the people who he knew would soon betray him. Jesus, the obedient and humble Son of God, even felt sympathy towards the sinful people of the world.
subscribe for daily prophetic updates now.