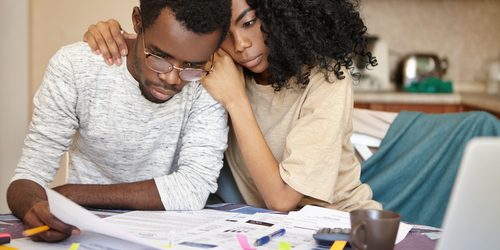 The Problem with the Family
Micah's mother discovered that eleven hundred shekels were missing, and she cursed the one who took it. But when Micah revealed that the eleven hundred shekels were with him, she spoke words of blessings to Micah. In Judges 17:1-6, it stated:
Now a man named Micah from the hill country of Ephraim said to his mother, "The eleven hundred shekels of silver that were taken from you and about which I heard you utter a curse—I have that silver with me; I took it." Then his mother said, "The Lord bless you, my son!" When he returned the eleven hundred shekels of silver to his mother, she said, "I solemnly consecrate my silver to the Lord for my son to make an image overlaid with silver. I will give it back to you."  
It was a problem with a whole family. We can never expect a son to have good values towards money if his mother does not show the same thing. Micah's mother had issues. After she discovered that it was Micah who took the money, she blessed her son and dedicated the money to the Lord.
But she did not present her gifts to the priests of Shiloh. She gave only two hundred out of the one thousand one hundred shekels. She made an idol with it. But more than that, Micah made some household gods and asked one of his sons to be his priest. They committed adultery and asked for God's blessings in a very wrong way.
We can never expect a family to be on a right track if the leaders of the household have wrong moral direction. We can never expect sons and daughters to have right values and character when their parents are doing things in a wrong way. What parents do and show their children are the things that they will surely learn. Their examples are strong enough more than their godly words.
Even if Micah's mother asked God to bless her son, when you hear it, it seems like a good thing. But it was totally wrong because she tolerated Micah's action of stealing her shekels and she used her shekels to make an idol. And Micah even appointed his son to be a priest. It was a whole family who had a corrupt form of leadership.
subscribe for daily prophetic updates now.