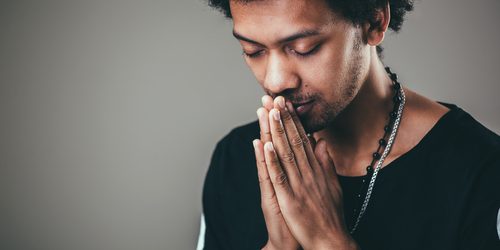 What Are You Praying For?
We all have our individual needs and different situations in life. No matter what we face, we should never forget our spiritual communication with our Father in Heaven through prayer.
The Lord never fails to hear us and He knows our needs and the desires of our hearts. The prayer of one person is good, but the prayer of many is even better. The more you pray, the stronger faith will be felt. This is why the Lord commands us to gather. There are also certain people who can help us with our prayers when we are at a loss on what to say. The Prophets of God are great at such prayers. They can help us better communicate with God. The Lord heeds the prayers of His servants.
The Prophets are praying and interceding on your behalf. You have not been abandoned. There are opportunities for you to better send your requests to heaven, especially when we pray for one another and when the Prophet prays for you. Pray now with these words:
IN HIM ALONE DO I PUT MY TRUST
FEAR AND WORRY ARE CAST OUT
BY GRACE WE'RE SAVED
IT IS THROUGH FAITH
WE OVERCOME!
Repeat this affirmation six times and believe that YOU CAN OVERCOME! Never forget to pray and when you feel at a loss. Trust in His servants. Trust in His prophets and YOU SHALL RECEIVE!
subscribe for daily prophetic updates now.